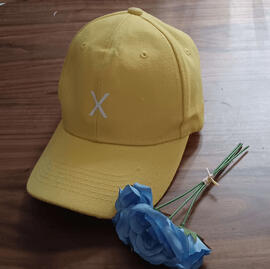 BáiYù
---
Visual Novel Developer, Marketer, & Social Media/Community Manager
Howdy folks, welcome to my landing site. I'm BáiYù, a demiflux and pansexual Chinese-American Game Developer. All pronouns are okay with me!

I'm a writer by trade, but I also program with the Ren'Py visual novel engine and do marketing for narrative-based games. My personal studio is tofurocks, and we help publish games by other developers onto mobile platforms under Project Ensō.

I've helped multiple studios develop and release their games, and I'm committed to assisting the VN community through free Ren'Py tutorials, frameworks, and the like.

Need help with your game outreach? I'm available for consultation.

Find me around the web.
Testimonials
"BáiYù has been an amazing help in such a short amount of time. Their enthusiasm and experience in creating content and seeking out marketing opportunities has been an enormous boon for us. For me, the best part is that I feel like I can really rely on them to handle the marketing side so I can get back to doing what I'm actually good at - game development! I couldn't be happier to be working with them."
- Els White, Spider Lily Studios
"BáiYù is a great asset to have within a development team. They add their own flair to social media posts that provide intriguing and engaging content, while staying on brand to the company. They are resourceful and think outside the box, leading to new and exciting marketing ideas."
- Courtney Gamache-Owen, Snowhaven Studios
"BáiYù is an exceptional social media manager and marketer. As a new indie development team, they got eyes on our debut release and brought in more views (and more importantly, downloads!) than we ever anticipated. They were pinnacle to developing our fan-base, and we couldn't be more thrilled."
- Johan Faulstich, Fiendish Fiction
"BáiYù has a uniquely conversational and quirky tone in their social media marketing that many progressive twenty-somethings can relate to. Their ideas on generating consumer interest and engagement are proactive and outside-of-the-box. One of my favorites was them documenting for my followers the ordering and tasting of a customized cake for my original character as a promotional campaign! Leveraging BáiYù's sense of humor, initiative, and enthusiasm for the product hasn't failed me yet."
- Coda, on the development of The Corpse Lieutenant
(The Cake Eating Stream, and the Write-Up)
"BáiYù has always been a pivotal part of the success of our projects. Whether they are taking on a managerial role, a marketing role, a programming role, or a writing role, their wide set of skills, their leadership and vision, has always allowed them to go above and beyond my expectations. For my team, they have been instrumental in starting, developing and finishing every single one of our projects. Without BáiYù, I am absolutely certain that we would've never had a successful KickStarter, a finished game or any games in development. Additionally, aside from their many hard skills, they are a fantastic communicator whose sensitivity to culture has allowed for richer game development and narrative, with subtle but important indicators which would've never been thought of without BáiYù pointing them out (for example, food)"

- Lina Langley, Boop Studios
"BáiYù helped me immensely with posting about the Winter VN Jam on social media, creating memes, bouncing ideas off of, and helping to answer questions devs had about the jam."
- Katy13
Services
As an indie game developer, I've picked up a variety of skills and worn many hats throughout my career. These are the services I'm offering to prospective clients:
Narrative Design

Scriptwriting

Diversity & Inclusion Consultation

Marketing, Copywriting

Social Media Management

Community Management
I'm currently available for short marketing consultation sessions. Shoot me an email and let's talk!